Click on A.I. VIDEOMAKER at the top of your browser menu to begin converting your Blog Post to Video with A.I. technology.







Select the option "Convert My Blog Post to Video". Insert your blog URL and click on GENERATE INSTANT DRAFT.




Don't worry if you don't have a URL and just want to test how the A.I. works. Click on "Start with a Blank Project".
When you're ready, you can choose any of the SUGGESTED TOPICS to help our A.I. technology provide you with the best option, then click on GENERATE INSTANT DRAFT to get to the THEME SELECTION



Here you can select the template you want to start working by clicking in one of them. If you not sure of what you want right now you can click on SKIP and decide later on.



Our AI engine has already summarized your article into a sequence of scenes called a storyboard. We'll give you a brief tour of our storyboard editor, which gives you full control over customizing your video.
Click on STORY so you edit the text per scene by clicking on the PENCIL. By clicking on the minus button it will remove the scene. If you click on the LAMP you tell the I.A which word (from the ones the IA shows you) you want to highlight on your project.




The Lightbulb button allows you to mark or unmark the words you want highlighted on your scene. The wordings are shown in green what can or cannot change. Once you select them, the A.I. you'll take care of the rest.





Here you can keep adding scenes here. Also if you click and hold the left mouse button on any of the scene phrases and scene up and down to change scenes position.





This text box will pop if you click on ADD NEW scene. Type or paste your text here and a new scene will be added to your project if you click on GENERATE. If you want to go back, just click outside of the box.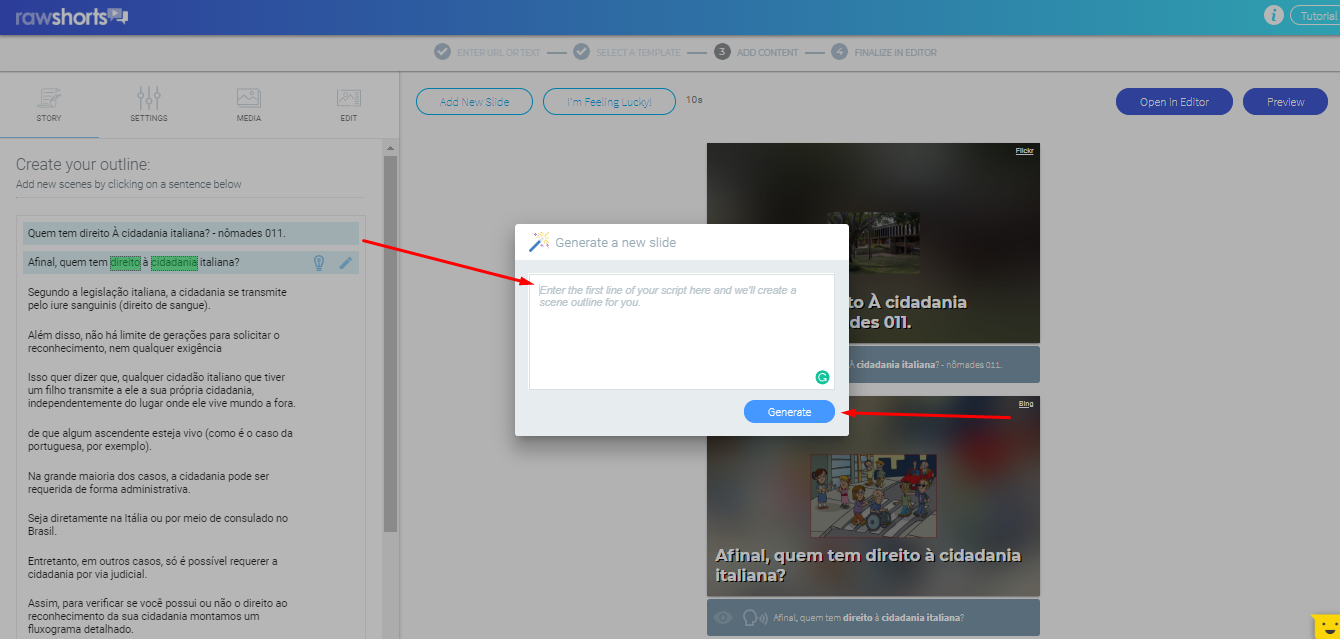 The I'M FEELING LUCKY! button provides images and videos automatically to your project based on the keywords of it. This will speed things for you and you can always manually change or add once inside the builder.




Just to let you know...
Even though this chooses a random media asset, our AI engine will try and match it as close as possible to your text's context!





Once you click OK on the image above you'll be able to choose between IMAGES or VIDEOS - just click in one of them and the AI will work on it for you.





Click on the tab SETTINGS to adjust different aspects of your project, such as

- Orientation: Choose between Landscape, Square and Vertical
Landscape orientation is most appropriate for most videos, but some website ads or social media posts use the square format (like Instagram and Facebook), you use the Vertical format for Instagram Stories, Snapchat and more


- HD: On and Off
You can use the HD version of your image as a background depending on the platform and the dimensions of your asset.


- Display Full Caption Text: On and Off
With this option "ON", your video will show the text of the script on all the scenes


- Text to Speech Narration: On and Off


With this option "ON", you'll listen to a narration of the script. You can change the language and the voice gender for each scene on the editor stage

- Narration Gender: Male or Female(Coming soon) Choose between male or female - once ion the editor, you can choose the language as well.


- Fonts: Choose fonts and colors

You can choose and customize your fonts and colors from our library. We have tons of options that will make your videos shine!
Remember that you always can change this on the editor.



And it continues here with MUSIC and THEME.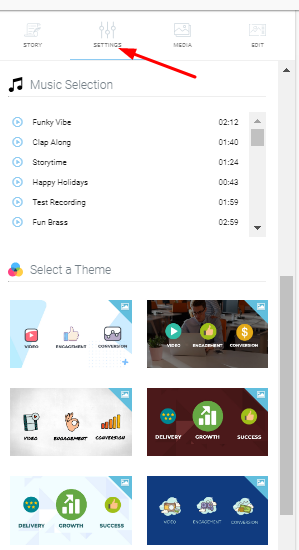 Music: Preview our music library and select the right track for your video.
Theme: Instantly change the look of your video by selecting a different theme, this will add a new Icons, fonts and backgrounds sets
Click on MEDIA to decide which IMAGES and VIDEOS you'll use on your project. If you click at the search bar you can search by keywords making your work easier. Also, you can click on MY IMAGES to import from your library.





To add an IMAGE or VIDEO to your scene first click on the desired scene and select the IMAGE or VIDEO you want on it. Click on the IMAGE or VIDEO and it will be added to your scene.

You have to repeat the process for each scene. The example below shows the first image on the first scene and the second image just below at the second scene.






Once you reached the EDIT tab you should be ready to go inside the builder by clicking on "Customize in Video Editor". At the VIDEO EDITOR, you can keep refining your video to get it ready to export.



Anytime you can click on OPEN IN EDITOR and this will take inside the builder or PREVIEW so you can have an idea of how your video looks like.





When you click on OPEN IN EDITOR this is what you'll see:

"Your document is ready!
Your outline has been converted into a document and is ready for fine tuning!"

Just click on GO TO EDITOR to finish your video and wrap things up.




This is very important. You can always go back to your project's OUTLINE. From the PROJECTS page click on the arrow at the bottom right of your project and then select OUTLINE. This will take you to the beginning of this process.