How can I rename an existing project in Raw Shorts?
To rename an existing project in Raw Shorts, at first click on the PROJECTS menu on the Raw Shorts website.


On the new page, you will find the list of all the existing projects that you have either started or completed so far on Raw Shorts.
For renaming any of the projects, you need to click on the drop-down icon existing in the bottom-right corner of their corresponding thumbnail.
Then, from the options available under that drop-down menu, you need to click on the option RENAME.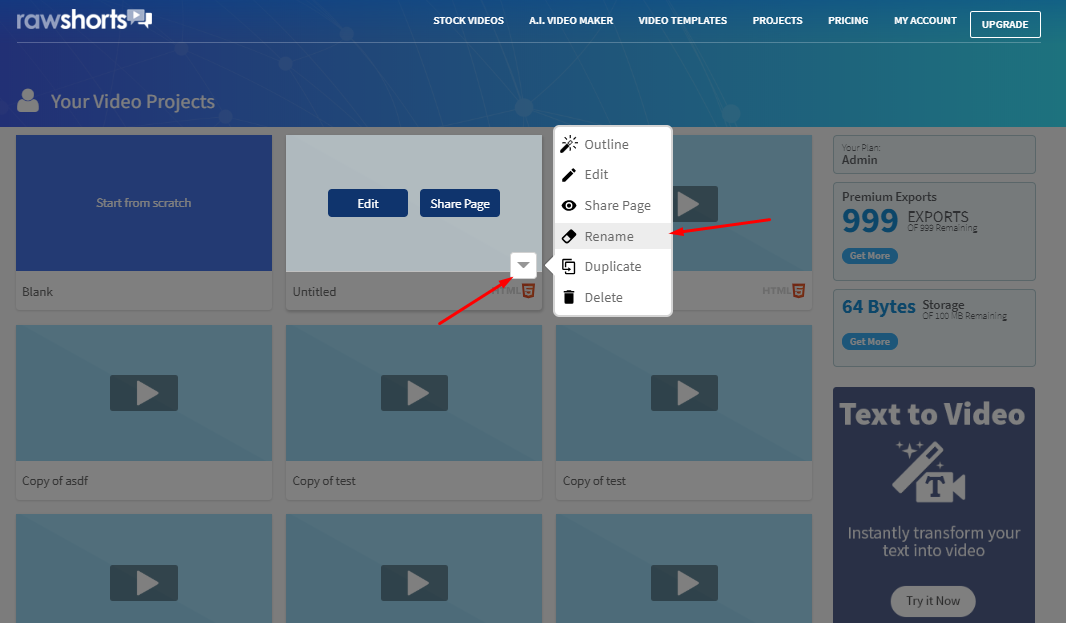 This will open a new box panel named Save your Video, where there are 4 input areas under the heading Add Your Videos Information. These input areas are TITLE, DESCRIPTION, TAGS & CATEGORY. Out of these 4 input areas, the first 3 are text input areas and the last one is a drop-down menu to choose an option from it.
If the project is an untitled project, then the first 3 text-input areas will remain blank, because no one has entered any customized information in those text fields previously and the drop-down menu will display its very first option i.e. App in its field by default. You can fill these fields with your personalized information starting from scratch and choose the option of your preference in the drop-down field.
Alternatively, if it is a project having a customized specific name already, then you will find that the text fields are already filled with the previously provided information and the drop-down menu also displays a chosen option in the place of the default one in its corresponding field. You can delete the existing information and fill these fields with your changed information. Also, you can choose a different option in the drop-down field other than the existing option.
Kindly note that you need to put information in all the fields before you click on the save button, as otherwise the video will not get saved with the name and other information provided and will continue to prompt you to enter the rest of the information into the remaining fields, repeatedly.